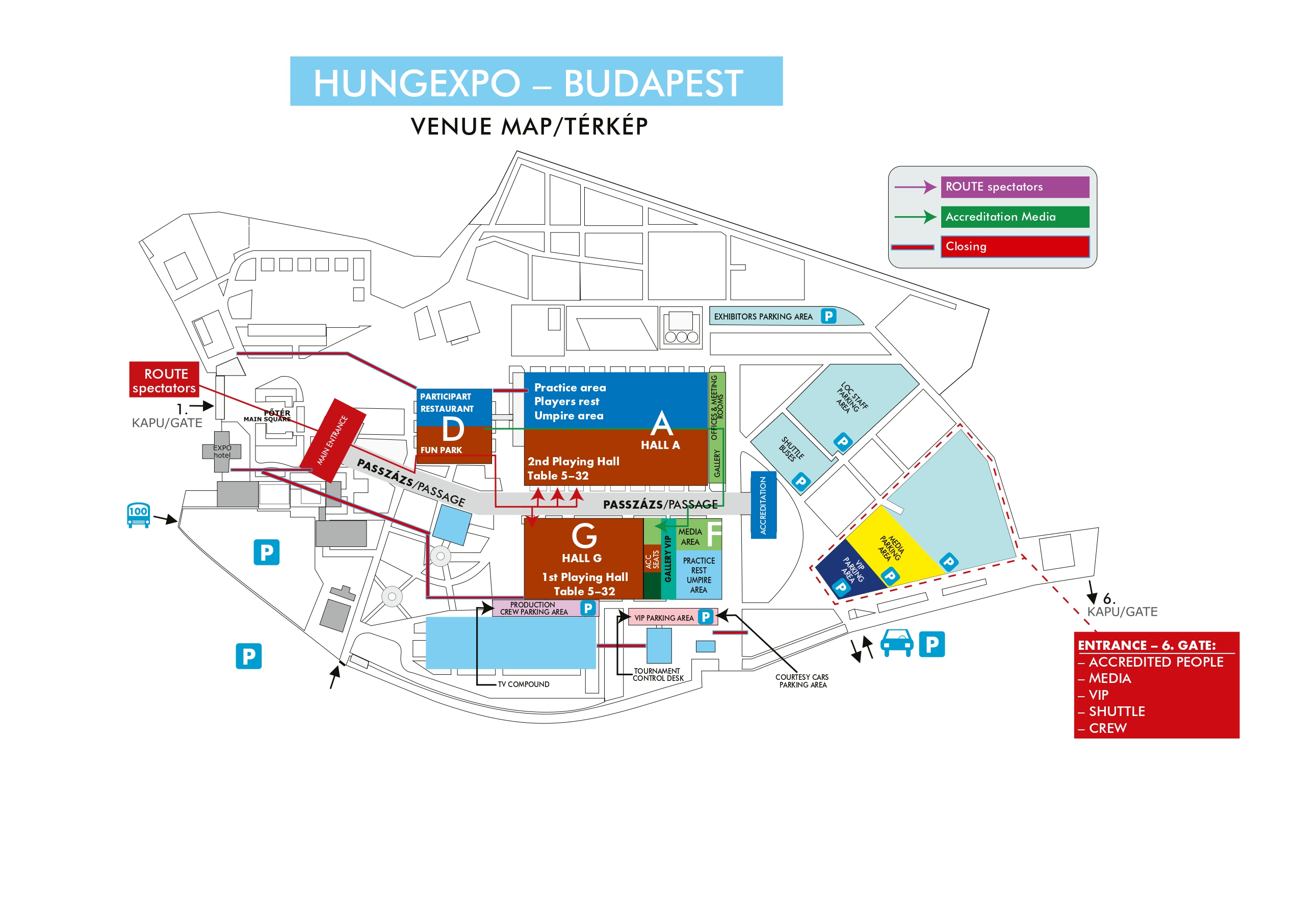 Venue:
HUNGEXPO Trade Fair of Budapest
1101 Budapest, Albertirsai avenue 10. (Expo square 1.)
VIP entrance:
By walk through Gate I. (Expo square)
By car through Gate 6 at Reception Hall III (Albertirsai avenue)
How to get to the venue:
•By metro with metroline M2 to Örs vezér tere station, from there take bus 10 (see daily schedule below), or by walk from Pillangó utca station (approx. 15 mins.). 
•By car from the direction of the city centre on Kerepesi avenue.
•By train from Keleti railway station to Kőbánya felső station.
•By bicycle from the direction of Kerepesi avenue on the Albertirsai avenue to Gate I.
Parking:
The parking in the inner parking lot of HUNGEXPO can be approached through Gate 6 and is possible only with VIP tickets and with the licence plate number previously given.
Tickets:
The official ticket sales partner of the World Table Tennis Championships is Jegy.hu. We ask the supporters to arrive to the event with tickets bought only through the official site. 
The tickets are pedestrian tickets which means free acces to most of the audience sectors of pavilion A and to the VIP sector of pavilion G. 
Children under 3 can enter the World Table Tennis Championships without tickets, but in this case they have to be seated on the lap of their parents/attendants.
Entering the venue:
The organizers will check the tickets when enetering and leaving the venue, VIP tickets will be replaced by an armband. 
From 25 April, session tickets will be in use, between the two programs the area will be emptied.
Only NOT professional cameras are allowed to use at the area of the venue.
The use of the VIP lounge:
For our guests with VIP tickets the use Viktor Barna suit will be possible by showing the armband.
Cloakroom, left luggage office:
During the event there will be no cloakroom or left lugagge office available!
Daily schedule of bus 10
Date

Follow by

Period

21 April, 2019, Sunday

8:00-11:00

20'

11:00-18:00

60'

18:00-20:20

20'

22 April, 2019, Monday

8:00-11:00

20'

11:00-18:00

60'

18:00-22:00

20'

23 April, 2019, Tuesday

8:00-11:00

20'

11:00-16:10

60'

16:10-17:40

30'

17:40-22:00

20'

24 April, 2019, Wednesday

8:00-11:00

20'

11:00-16:10

60'

16:10-17:40

30'

17:40-23:00

20'

25 April, 2019, Thursday

8:00-11:00

20'

11:00-16:10

60'

16:10-17:40

30'

17:40-21:20

20'

26 April, 2019, Friday

8:00-11:00

20'

11:00-16:10

60'

16:10-17:40

30'

17:40-22:20

20'

27 April, 2019, Saturday

7:00-8:00

30'

8:00-10:00

60'

10:00-13:00

20'

13:00-18:00

60'

18:00-21:20

20'

28 April, 2019, Sunday

7:00-12:00

30'

12:00-14:00

20'

14:00-15:00

60'

15:00-16:20

20'